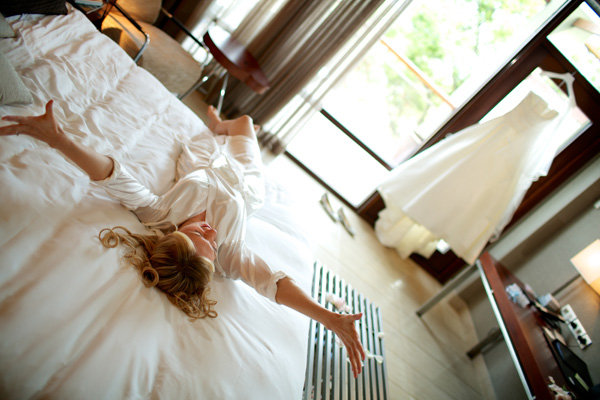 The FIRST 5 things to do on your wedding day!
Stay hydrated!!
Drinking a 16oz glass of water (with or without lemon) before starting your day is the quickest way to boost your metabolism.
 Send your future spouse a text
If you didn't spend the night together, you can take this time to send a cute message to your future spouse.  Some brides like to save these messages as a keepsake to look back on their bridal emotions later.
Air out your wedding gown
If you've kept your dress stored in a bag, this is a good time to open it and let it air out. This can get rid of any bag smell and loosen any wrinkles. Some brides will also take this time to have their wedding photographer snap a picture of their gown before putting it on.
Turn OFF your phone!
You're the bride! Today is YOUR day and you don't need to be taking calls or texts from anyone. That's what your maid of honor, mother and bridesmaids are for. Turning your phone off will allow you to take in these once in a lifetime wedding moment without being distracted by social media.
Be still!
Take a moment to relax. Sit down, take a deep breath and take a look around at your surroundings. Soak up all these moments. Your wedding day will be one of the most exciting moments in your life and you'll want to remember them.
-Diane's Bridal